Catering in Fatrapark - restaurants in the neighborhood
Catering and bar FATRAPARK
Possibility to order:

- separate breakfast :adult 6 € and children 4,50 €
- snacks
- half portionsfor children
- children chair
Choice of half board, full board and and meal times can be arranged according to a menu in advance on arrival .
For groups of more then one person is served breakfast buffet.
In off season please order meals in advance
to report
OWN CATERING:
Do you want to cook by yourself ?
There is no problem. Product you can buy in Tesco only 1.5 km. Each apartment is equipped with its own kitchen with basic equipment (dishes, glasses, cutlery, electric stove, range hood, microwave and minifridge in the countertop, electric kettle)
Some new 3D interior photos Fatrapark bar and reception in our high-quality 3-D resolution:
Live cameras, 3D photo and video gallery
On the ground floor of the apartment house Fatrapark is comfortable sitting area.
The premises are suitable for organizing family celebrations, banquets, corporate events, presentations and so on. The equipment includes satellite TV and Internet Wifi Free
Capacity bar: about 70 people
Saloon 25 people
The bar is wheelchair access via patio
Non-smoking area.
You can smoke on the terrace or in front.
Login with the animal allowed
Readers will take a small library
Party game
bedmington. rackets, balls and other
We have prepared a wide selection of soft drinks and alcoholic drinks, mixed drinks, ice lollies.
In season Draught Beer Zlatý Bažant.
We recommend excellent Italian Espresso Pellini Hot chocolate will attract you with its delicious taste.
Music (Recorded)
Parking in front or in the underground
garage
! We Offer Breakfast also for guests who are not accommodated in our hotel!
SUMMER TERRACE BAR FATRAPARK
We have ready for you garden fireplace and grill.
Make your own delicious dinner right in the nature in the terrace!
Wood or charcoal can be purchased in reception.
From spring to autumn is made ​​available to you with a nice terrace overlooking the forest in clamping area of mouflon. Sitting at wooden tables.
Children will enjoy the children's garden playground with houses, slide, sandpit, a small climbing wall.
NEW RESTAURANT FATRAPARK
/ next building / only 30 m
The modern restaurant offers half-board meals and breakfast. We recommend a wide selection from the menu. The restaurant is ideal for weddings, family celebrations, banquets, corporate presentations and more. There is a nicely furnished new banquet hall for 50 people! In summer available to for hotel guests a terrace, where is a beautiful view into the woods and creek.
In the nerably area from Apartment house Fatrapark
Are 2 more restaurants RESTAURANT by side hotel : only 100 meters
Meals are provided Alacard. continental breakfast or half board. The restaurant has a total capacity of 100 seats. Wide range of dishes - we recommend specialty poultry, fish, deer meat and local delicacies.
Restaurant style Cottage only 150 meters:
Waiting for you a pleasant stay and excellent cuisine
grandmother and Cattle goodies and fish specialties.
Pork Feast + offers goose and duck feast.
Roasted lambs and piglets (order in advance)
In the wider area should visit :
Pizza Camino
Čutkovská 1/A 2 km from FATRAPARK the main road in Černová.tel. 044/43 32980
Pizzeria next to the main road between Zilina and Liptovsky Mikulas.
Nicely covered parking and a terrace, generously resolved interior - wooden roof. Pizza is prepared in the original brick wood-burning oven ..
Enterprise is a non-smoking. You are free to connect to the internet via wifi. A wide range of foods: handmade homemade pasta, steaks, pizza ...
Koliba u dobrého pastiera
Located in Čutkovskej valley about 2.5 km from FATRAPARK
The restaurant seats 50 people + 30 people on the outdoor terrace. Offers a pleasant sitting in Slovakia cottage with a huge stone fireplace in the middle. It is open daily 10:00 to 22:00 hours. Non-smoking property.
Offer food: the traditional Liptov kitchen at an affordable price
Contact: 0917 440 604 , 044/43 27920 www.kolibaupastiera.sk
Koloseum
Located in the heart Ružomberok near the bus station about 2, 5 km from FATRAPARK.
It is furnished in Mexican style food service and offers its visitors since 1992.
Offer food: not only brings in Mexico cuisine and the atmosphere of Central America. Offered are specific foods ... Open daily 10:00 to 22:00, Friday, Saturday until 24:00.
Contact : 0907 809 464 www.koloseumrestaurant.sk
Option: DELIVERY SERVICES
Koliba Likavka
Located in Likavka just a few meters from the road to Dolny Kubin about 4 km from FATRAPARK.
Visitors can now obtain device Slovak rural atmosphere, the smell of wood and unobtrusive folk music. The interiors are furnished with traditional handmade wooden furniture and a fireplace.
Offer food: traditional Slovak specialties (sausage, pork sausage, gnocchi, ravioli ...), as well as dishes belonging to international cuisine. We have something gourmets products favoring a diet, vegetarian dishes, delicacies from fish, poultry or pasta. All the quality that will satisfy, and an amount that surprised. Open daily 10:00 to 21:00.
Contact : 0905 716 603 , 0908 108 937 www.kolibalikavka.sk
Salaš Krajinka
Located 2 km from Ruzomberok - the direction of Martin once the main road.
Offer food: traditional cheese specialties. Restaurant open daily from 10:00 to 21:00
Contact: 0918 964 800 www.salaskrajinka.sk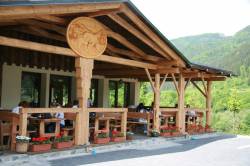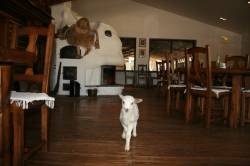 Vlčí dvor
The building is located on the route from Ružomberok to Banska Bystrica, surrounded by mountains and Aqua Low Tatras National Park. In close proximity is Vlkolínec museum (ancient village).
Menu Food: Food Venison and sheepmeat (eg deer steak in red wine, Mountain mutton, etc.).Contact: 0903 393 425 www.vlcidvor.sk